RMC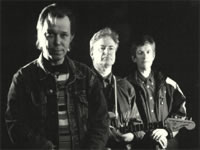 RMC are currently undergoing an operation to remove their new album from their collective grasp and release it upon an unsuspecting public. While you wait, why not get taken away by the lyrical preview of Take Me Away? Or take a peek at their flash rmc-music website.
RMC Members
RMC is comprised of:
Paul Riley
Leaping from acoustic to Fender electric guitar - and lurching from folk to rock and pop music - Paul plays the fiddly bits the other two can't reach.
Paul Marfleet
Former member of a famous folk group - now revelling in pop and rock - still supplying smooth harmonies and laid-back lead vocals - and contributing copious compositions.
Andy Caven
At fifteen Andy abandoned his career as a blues singer & guitarist - because a friend told him "you have to suffer to sing the blues" - the escalating price of mouth organs and the discovery of girls were quite enough suffering, thank you! Busy inventing novel arrangements for the band.
This trio trained as a teacher, a doctor and a lawyer but all three agree that singing and playing guitars is far more fun!
Their repertoire ranges from The Everlies to Van Morrison, from Elvis Presley to Bob Dylan, from Buddy Holly to Bruce Springsteen, from Ray Davies to Warren Zevon, from Roy Orbison to Pink Floyd
...interspersed with original compositions.
Discography

KM 023 CD
Cover painting: detail from "Together" - a watercolour by jonatack.